Greek newspaper reignites gas dispute with Turkey
The strictly conservative and patriotic Greek newspaper "Dimokratia" has stepped up in the oil and natural gas dispute between NATO partners Athens and Ankara. The newspaper published a photo of the Turkish head of state Recep Tayyip Erdogan with the caption "Fuck off, Mr. Erdogan". To ensure that the message actually gets through, the translation into English was included with the delivery.
Turkish presidential office is outraged
The Turkish Foreign Ministry responded by summoning the Greek ambassador to Ankara. President Recep Tayyip Erdogan's communications chief Fahrettin Altun also complained in a letter to the Greek government about the incident, as government spokesman Stelios Petsas announced in Athens. Insulting a foreign head of state does not fall within the spectrum of freedom of the press or freedom of expression, Altun wrote. Athens must hold those responsible for this "shameless" publication to account, he demanded.
The Greek Foreign Ministry distanced itself from the abuse, which was also spread on the newspaper's website. At the same time, the authority rejected the Turkish criticism. Freedom of expression enjoys full protection in Greece, the ministry said in Athens. However, the use of offensive language contradicts "the political culture of our country and can only be condemned".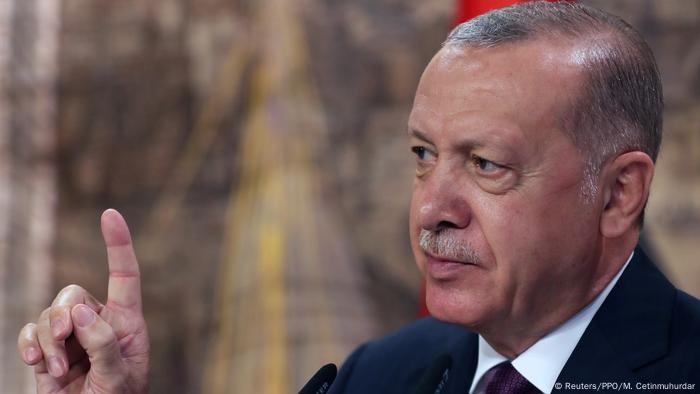 According to his own statements, the Turkish head of state Erdogan is aiming for a solution through dialogue
Erdogan himself did not respond to the abuse. However, he commented on the raw material dispute and the withdrawal of the Turkish exploration ship "Oruc Reis" from the eastern Mediterranean a few days ago. The ship was brought back to give diplomacy a chance, he said. Greece should do the same. Erdogan said he was ready to discuss the matter personally with Greek Prime Minister Kyriakos Mitsotakis.
The supposedly rich oil and gas reserves in the eastern Mediterranean are located in regions claimed by Turkey, Greece and Cyprus.
se / ehl (afp, rtr)