Are Anu Malik songs underestimated?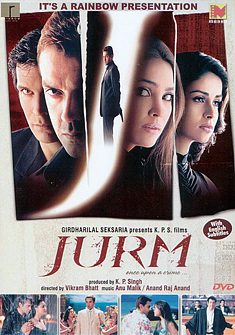 > molodezhnaja main page
> asian movies
> bollywood
> 2005
> JURM





Thriller. India. Hindi
Alternative titlesCrime; Jurm: Once Upon a Crime
DirectorVikram Bhatt
script Girish Dhamija, Neeraj Pahtak, Sanjay Bhatia
production K. P. Singh
Songs Anu Malik, Anand Raj Anand
camera Pravin Bhatt
choreography Raju Khan
actorBobby Deol, Lara Dutta, Milind Soman, Gul Panag, Ashish Vidyarthi, Milind Gunaji, Shakti Kapoor.
length 161 min.
Theatrical release 18.2.2005
Trade classification disaster
Molodezhnaja age recommendation from 14

| | | | | | |
| --- | --- | --- | --- | --- | --- |
| humor | tension | Action | feeling | claim | eroticism |
| . | | | . | . | . |
© Text Marco, molodezhnaja 18.3.05
© Pictures Rainbow, screenshots molodezhnaja
---
STORY
The police get an emergency call from Sanjana Malhotra (Lara Dutta). When they go to their house, they find Sanjana's husband Avinash (Bobby Deol) passed out and covered in blood on the floor (1). He's going to court, all the evidence speaks against him. His friend and lawyer Rohit Saxena (Milind Soman) tries to reduce the burden of proof. (2) He does not believe that Avinash committed the crime. He was by his side when he fell in love with Sanjana. At that time Avinash renounced the love of his girlfriend Sonia (Gul Panag) and lost his heart to Sanjana. They got married (3). Later there was an argument, Avinash believed that Sanjana was cheating (4) - but he could never kill her. The court sees things differently and sentenced Avinash to life imprisonment. Rohit wants to help him break out.
REVIEW
Director Vikram Bhatt likes to steal from role models from Hollywood and Bollywood. The first half of "Jurm" was inspired by "The Fugitive" with Harrison Ford. But then the thriller follows less a specific film than a specific genre specification with all the necessary clichés. However, there are not enough false leads and far too few surprises for a thriller of this kind. After all, you should cheer for 161 minutes, but the air is out before the intermission. Instead, the film turns into a revenge thriller without a character of its own, even completely out of place fight scenes in John Woo style are added shortly before the end. Bhatt staged the film in a visually attractive way, but that's hardly enough to conjure up entertainment.
The actors are also fighting for lost posts. I really like Bobby Deol better since he improved his hairstyle and he wears the stripe very solidly too. Lara Dutta is shockingly unattractive in some scenes and extremely untalented in other scenes. Better is the "Miss India Universe 1999", Gil Panag, which actually sets the better trap than Lara in terms of appearance. The last of the group is Milind Soman, whom I consider an underrated actor and who boldly chooses roles. "Jurm" is certainly not one of his best films, but the ex-model is convincing. In small roles among others Ashish Vidyarthi and the greasy Shakti Kapoor.
Among the song-and-dance numbers only one stands out: "Meri Chahton Ka" (5). Not because it would be particularly well staged, but simply because it's a beautiful song. All other tracks are rather disappointing - especially when you consider that such distinguished people as Anu Malik and Anand Raj Anand worked on it. The songs belong to the saving elements of the flick, because the rest is so mundane and boring. In the end, the whole thing is simply not surprising enough for a thriller. I measure a thriller by the nervous tension or the number of successful surprises. "Jurm" doesn't have either and can therefore only be described as a failure. At most it is worth watching because of the lacquered production, because of Bobby's game and because of "Meri Chahton Ka". Yes, that's actually not much for 161 minutes.
SONGS
1) Nazarein Teri Nazarein - The singing is not my thing, the song is okay, the staging is bland (6).
2) Meri Chahton Ka - A beautiful love ballad. Probably the best track on the whole soundtrack.
3) Aksar Ye Hota Hai - Quite a nice up-tempo number, visually quite ordinary (7).
4) O Sanam O Sanam - medium quality background supplication.
5) Meri Mohabbat Ke - background song without recognition value.
6) Dil Dil Haye - Heated but weak Item Number (8).
MY DVD
Rainbow (USA), code 0, NTSC
Anamorphic widescreen
Hindi Dolby Digital 5.1 with English subtitles (film and songs)
Disk Rating * ½ (weak picture, no extras)
TO ORDER
Indiaweekly.com (USA)
Nehaflix.com (USA)
EXTERNAL REVIEWS
indiafm.com (1/5 - spoiler!)
Planetbollywood (5.5 / 10)
BBC (2/5)
Rediff.com ("Jurm is gripping enough" - spoilers!)
SCREENSHOTS
click to return to the top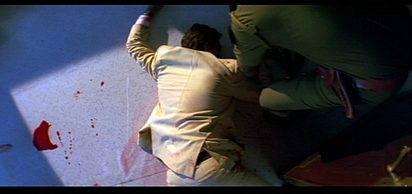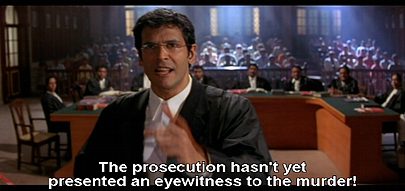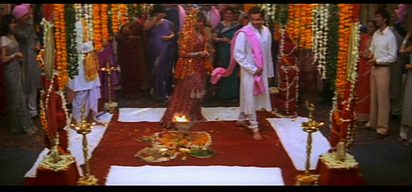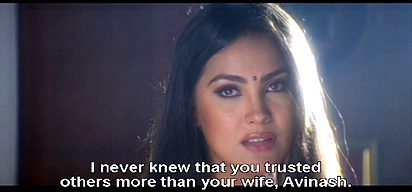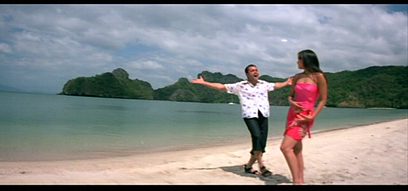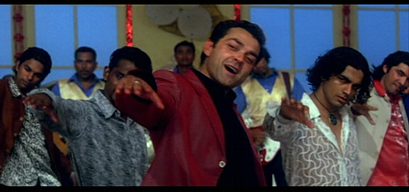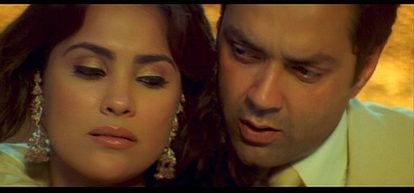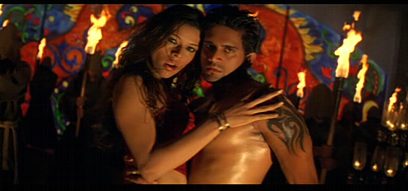 ---

created by molodezhnaja
all rights reserved.
Page optimized for Internet Explorer 6.0