A country in upheaval - globalization and educational opportunities in India
India is one of the leading industrial nations in the world and is growing at a rapid pace. More than a million computer professionals will be needed in India in the near future. Not really a problem for a country with around a billion people, half of whom are under 25. But the Indian education system is lagging behind the needs of the globalized world.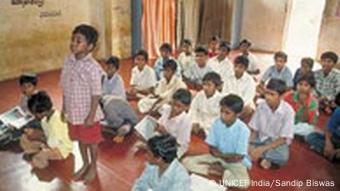 Students in a UNICEF supported school in Jagriti
In addition to masses of illiterate people, there are many poorly or insufficiently trained young people and only a handful of graduates from internationally recognized universities. "Our problem is that there are many young people in India who have no chance to study," says Professor B. Bhattacharya, Vice Rector of Jahawahrlal Nehru University in New Delhi. "There are only about 300 universities for more than a billion Indians, that's not a lot. In addition, most universities have far too little money. So the level of education is not always high there. Only our 50 top universities offer truly international standards. "
To study? Yes gladly! - But where?
The rush to the top universities is great, especially to one of the seven Indian universities for technical courses. But of the 200,000 applicants, only 4,000 are accepted each year. The student Karan Mishra complains: "It is more difficult to get a place at a top Indian university than at Stanford. Because Indian universities have such a tough entrance exam. "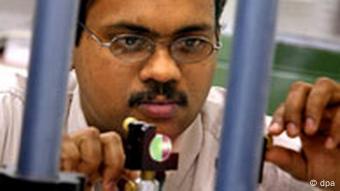 Indian student
More and more young Indians are going abroad - if they can pay the high tuition fees. Even the banks have already reacted to the new financial needs and are now offering special student loans. Most young people, however, have to deal with local opportunities without any cash injections. Rural students have an even harder time than city dwellers. For them, distance learning is often the only way to study at all - either as a correspondence course or via the Internet.
Education for everyone?
For India to take the step into the future, something has to change: Both private and state universities are needed. In addition to traditional educational paths, innovative educational concepts must also be found. Professor Pushpesh Pant from Jahawarlal Nehru University wants to start with school education. "Without good schools there are no good universities. That is why we must first improve the quality of basic education in India, not only in the elite schools for the privileged few, but everywhere in the state schools. "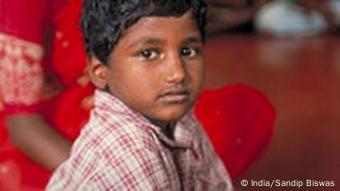 Students in a UNICEF supported school in Jagriti
A huge task. The nationwide supply of good computers in the country is one hurdle, the supply of good teachers is another. The education system still has a lot of catching up to do, especially in rural areas. But there are some promising approaches. For example the "Hole in the Wall" project. The project has been providing public computers to thousands of children in India for several years. This gives those who could never afford it access to computers.
Optimism for the future
Despite all the obstacles, India's young generation appears to be ready for the challenges of the 21st century. Surveys show that young Indians are more optimistic than most of their peers in other countries. And they are confident enough to have confidence in themselves.
So far, only a fraction of young people have benefited from the opportunities offered by globalization; most can only dream of them. But if the quality of school education and that of universities can be improved, India will succeed in realigning its educational policy.
Authors: Vibuthi Bhat and Anke Rasper
Editor: Peter Koppen