2018 was actually YOUR year
SUP yoga, surf yoga, yoga on the surfboard - why we love yoga on the water
After yoga grounding on the mat, yoga comes flying in a cloth and now yoga floating on the water? Do we need the next yoga trend? SUP Yoga has been hyped as a trend sport for several years. But yoga doesn't want to be either a hype or a trend. So what is SUP Yoga and why is it worth getting to know this type of yoga?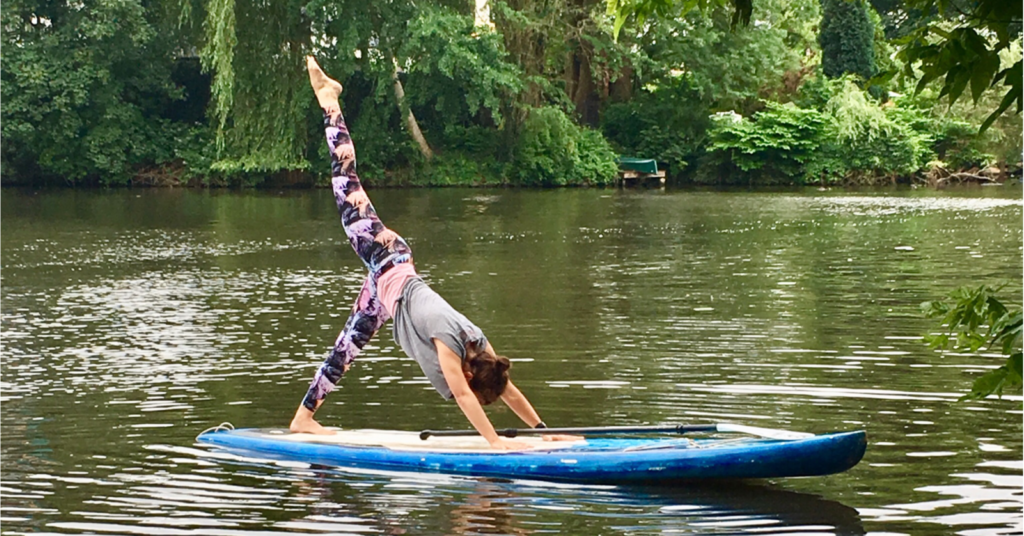 So what exactly is SUP Yoga? As the name suggests, SUP Yoga is yoga on the so-called Stand Up Paddeling Boards (in short: SUP). To get to the point: We use extra large and sturdy surfboards as yoga mats and move the yoga studio outside directly onto the lake. I actually got to know SUP Yoga as an emergency solution many years ago, long before the SUP trend came up and even longer before the term SUP Yoga even came up. It was the time without smartphones and constant Internet information overload. I lived by the sea and enjoyed the time when I wasn't teaching yoga, preferably by or on the water. But what do you do when there is no wind and yoga on the beach is too boring in the long run? Exactly: we misused the surfboards to experience yoga in a completely different way. Admittedly: It was a lot wobbly on the rather narrow surfboards and not everyone got on with the swing. Back then it was just a joke for us. Only later did we find out what kind of trend we had "discovered" back then. Almost exactly a year ago I spent my yoga-free time on the water again and was asked by the water sports enthusiasts from ALL-on-SEA whether I also knew and could teach this SUP yoga. Sure, for me there are two things without which life somehow makes no sense: yoga and water. Why not combine both. You can read why this is so useful in my 10 advantages for SUP yoga.
Get outside - pure nature
Outdoor yoga opens up so many great details. That's exactly what yoga is about: connecting with the earth, the universe, nature and that is best done outdoors. When the weather is nice, you can also marvel at the beautiful surroundings: the glint of the sun on the water, the gentle breeze on your skin, lots of fresh air in your hair and lungs, the sweet chirping of birds in your ears, the calming lapping of the water on the board, a soft sound of waves and a cool water, when it gets too hot ... you will perceive the lake with completely different senses afterwards.
2. Everything is or will be in balance
No matter whether you are a yoga professional or a newcomer to yoga: all asanas (physical exercises) that feel safe on land and look very simple become a little challenge on the floating yoga mat. It is not only important to compensate for your own fluctuations, also the natural movement of the water and the wobbles of your board neighbors have an effect on you and challenge your inner balance properly.
3. Whole body workout at its best
Whether you want to use yoga as body training or not, SUP yoga challenges and trains your whole body. Even if you are concerned with the other aspect of yoga: "Unfortunately" you cannot avoid the workout here. By constantly balancing on the SUP, the deeper muscles (i.e. the muscles near the joints) and the so-called core muscles are trained. A strong core and strong joints could be the result here.
4. Everyday life off - focus on
Concentrating on the floating SUP, its surroundings, the yoga asanas, your body and your breathing are indispensable and are not difficult at all with SUP yoga. You will quickly realize: the stress and everyday chaos will be forgotten for the moment. Otherwise you will end up in the cool water very quickly ...
5. Take a new perspective and enjoy the change
A floating yoga studio opens up completely different perspectives on you and your surroundings. Everything changes: sometimes you look at the sky, sometimes at the lake, sometimes at the shore and you realize that in the next moment everything looks completely different again. Nothing remains. Everything changes and the floating studio may show you that there are always new possibilities in yoga, but also in life. You just have to grab it.
6. Keep it simple - back to basic
Especially in our time when things are getting higher, faster, further, more colorful, louder, it is really good to know that sometimes you don't have to do that much. With SUP Yoga there are all kinds of challenges, so that we don't have to look for the challenge in the individual asanas, but in ourselves. It quickly becomes clear: alignment, feeling and centering are so much more important than wild contortions and advanced exercises. They often end up in the water.
7. Why so afraid? - Test your limits and let go
The worst thing that can happen during the SUP yoga class is that you fall into the water. And to be quite honest: With a water temperature of over 20 degrees Celsius and an ambient temperature of well over 20 degrees Celsius, is it sometimes even a welcome cooling off and makes the other participants smile. So why so scared?
8. Everyone can do SUP Yoga
In SUP yoga, the yoga professional meets the yoga novice, the water sports expert meets the grouch and the active athlete meets the extreme relaxer ... Everyone can do SUP yoga. Provided you can swim and have no problem getting wet.
9. Why so serious? - The focus here is on fun and joy
Simply use the SUP board as a kind of toy and let yourself be entertained by the fun. As an experienced yogi / experienced yogini, you will learn new things about yourself and your body in a playful way. It's a great introduction to yoga for those new to yoga. Especially if you have some respect for this yoga world. The same applies here: Learn about yoga in a playful way. There is no space on the board for singing bowls and incense sticks, so you will (still) be spared this yoga experience 😉
10. As always, the best comes at the end
After we have familiarized ourselves with paddling technique on the beach, paddled our yoga mockery and mastered the physical and mental challenge, you will accept the unique relaxation at the end with thanks. Savasana on the SUP invites you to let go of everything completely and to surrender to the gentle rocking of the board in the midst of nature.
Well, did you feel like trying SUP yoga now? Then off with you to the next lake and grab a board on your own or just drop by me at the Markkleeberger See. I'm looking forward to all SUP yogis, water rats, surfer yogis and all those who want to become one. We like to use the sleepy Sunday morning hours just as much as the quiet Friday evening (and sunset) atmosphere for our SUP yoga courses.
Off to the lake & Namasté 🙂
Posted in BlogTagged Markkleeberger See, SUP, SUP Pilates, SUP Yoga, Sup Yoga in Leipzig, SUP Fitness, Surf Yoga, Water Sports, Yoga, Yoga in Leipzig2 Comments