What nutrients are in poppy seeds
Poppy
Synonym (s): blue poppy
In Germany, approx. 7,000 - 8,000 tons of poppy seeds (blue poppies) are processed annually for baking and food purposes. This demand is mainly covered by imports from other countries, e.g. from Turkey, the Czech Republic, Hungary, Australia ...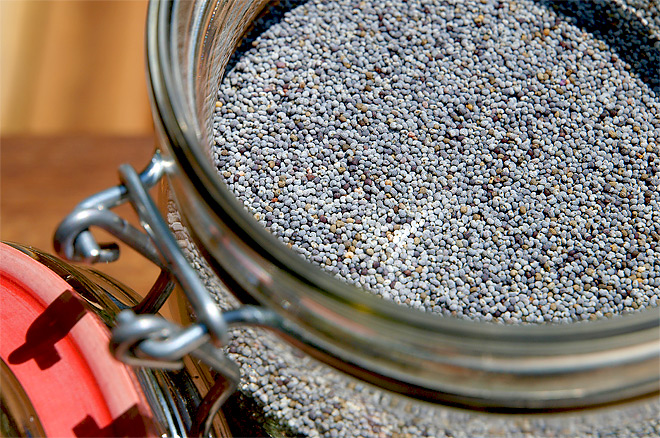 Blue poppies in a clip-on glass for sprinkling bread and rolls ...
In the kitchen, however, only the ripe and therefore non-toxic seeds of the opium poppy are used - mostly from cultivars that no longer contain any toxic, addictive alkaloids.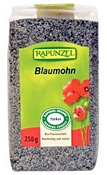 *
The cultivation of "real" opium poppies is forbidden in Germany and in many other countries, as opium is obtained from the white milk of its unripe opium poppy capsules, which in turn is used to produce morphine, the most powerful of all pain relievers, and as a raw material for heroin.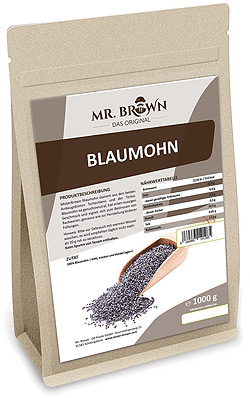 Blue poppy
nutty & tart
by Mister Brown

*
When I use poppy seeds (blue poppy seeds), the first thing that comes to my mind is a poppy seed roll from the bakery, followed by a delicious poppy seed cake or a vanilla sauce with poppy seeds ... simply delicious.

But poppy seeds are not only suitable for the preparation of savory or sweet baked goods, in desserts or in muesli, but also in roasted form in rice and vegetable dishes or in a hearty salad such as endive salad.

After opening, the poppy seeds should be stored in a well-sealable container in a cool, dark and dry place.
Nutrients per 100 g / ml poppy seeds
---
Note on the nutritional information:
The nutritional content of fresh food can vary greatly depending on the variety, degree of ripeness or method of preparation. Therefore, the nutritional information given is always only a rough guide.
What does an asterisk after a link mean?
*) This link is a so-called affiliate link. That means, the link leads you to one of my partner programs. If you order something there based on this link, I will receive a commission from my partner as a thank you for this product recommendation (advertising). Of course, this has no effect on the price for you. You support the maintenance, further development and maintenance of my website. Many Thanks :-)




Sources and further reading
0 comments on this article